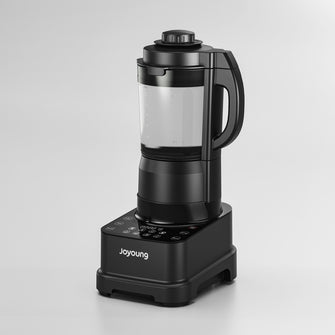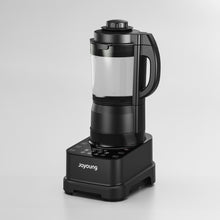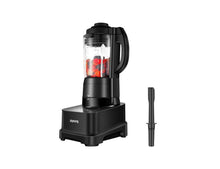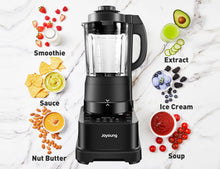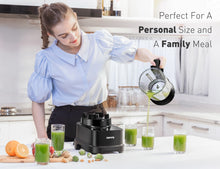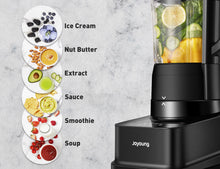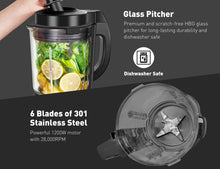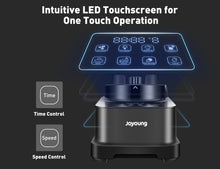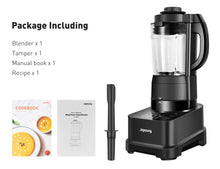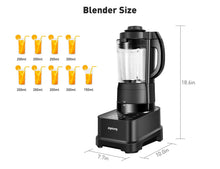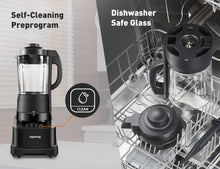 Joyoung Mega Power Stand Blender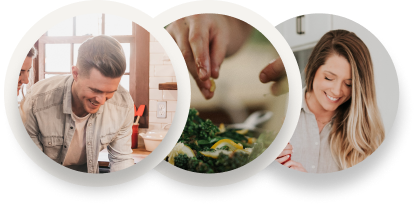 Capacity: 1.8L (60oz) Pitcher Material: Glass Rated Voltage: 120V Rated Frequency: 60Hz Power: 1200W Control Type: Digital Touch Screen Unloaded RMP: 28,000rpm Color: BlackProduct dimensions (in.): 9.25*10*18.89 Package dimensions (in.): 16.7 x 12 x 11.61 Product gross weight (lb): Package gross weight (lb): 12.3
Free shipping & 30-days return policy

Free returns on major appliances

Hassel-free warranty

30 day money back guarantee
What the People Love the Most
Joyoung Mega Power Stand Blender
Mega Power Stand Blender
I have made the best natural peanut butter I have ever eaten, I feel I will not buy peanut butter in a market any more. It turned out super smooth and creamy, with a rich flavor. I also make almond milk with it; so easy and rich in protein. It's not that quiet, but for such a high powered blender, I'm satisfied with its performance. I like this style because the thin motor base can perfectly fit under my cabinets, so I can keep it out on the countertop for easy access. And the preset programs ans recipe book help a lot because it's convenient enough.
Mega Power Stand Blender
5 stars for this very solid blender. Very solid unit and heavy glass pitcher. Its not expensive at all with a top configuration, and it works increadibly well on varieties substances. Can you believe, with this price, you can have a glass pitcher and 8 preset programs. Cheap blenders struggle to go through frozen fruit and often break quick overtime, but this one is so good at frozen food and make ice cream. After buying a new cheap blender dealing with broken blender pieces in my smoothies, I think this was the right long term choice.
Mega Power Stand Blender
Wow, this is a high-power blender! I use the HB blender that I bought for $35.99 5 years ago. The ingredients made by HB are not so delicate. My first chia seed milkshake was actually very smooth! All the green leaf fragments and chia seeds were completely crushed! My throat no longer feels uncomfortable! I also tried to make a lasagna sauce, which is mellow and thick, and I can control its taste. I can't wait to try many more recipes! In terms of noise, I can't say it is very quiet, but I don't regret it because of its high power. I live in an apartment, but hey, using a blender is not illegal! It is made very fast, so I think the noise is totally tolerable.
Great blender that seems so futuristic...
As simple as it sounds, it's neat to plug in and have the lights appear on the panel with the selections of how you can blend. There are 8 different selections you can choose from. We use the smoothie function most often and it works really well. It 'paces itself' for lack of a better term to ensure everything is well blended together. One of the biggest shortfalls of all blenders is their inability to work in ice to whatever you are blending. This blender does very well with ice and even makes a well blended frozen daiquiri. The main functions of this blender work great.
Nicely constructed overall. The base has a bit of heft to it, but isn't ridiculously heavy. Easy to take in and out of storage. The jar is a heavy duty glass that will last you a long time, and a lid that fits snuggly. Both the lid and the jar come out very clean in the dishwasher.
Very nice blender that works well. Easy to store and not a pain to pull out of storage. This also doesn't look silly on your counter if you keep it there.
RECEIVE PRODUCT NEWS AND UPDATES