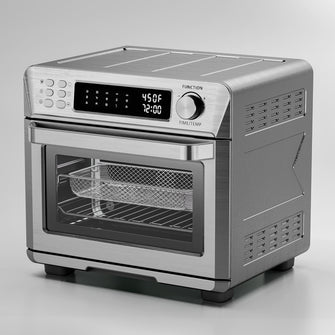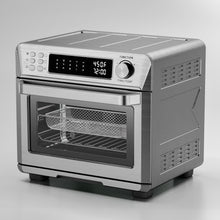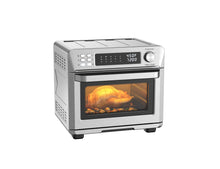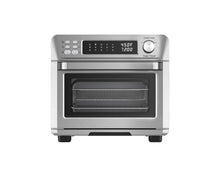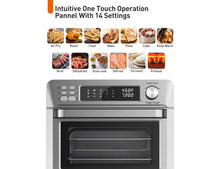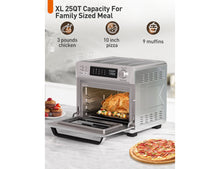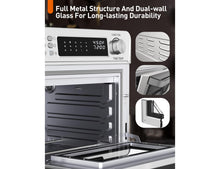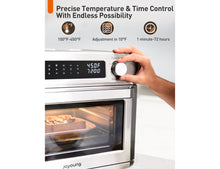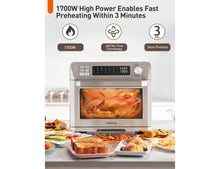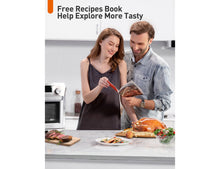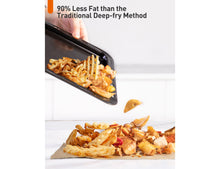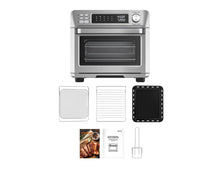 Joyoung SteelMan Air Fryer Oven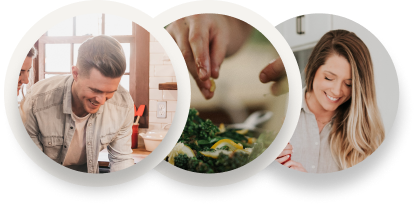 Capacity: 25QT/24L Rated Voltage: 120V Rated Frequency: 60Hz Power: 1700W Control Type: Knob and Smart Programm Temperature Range: 100-450°F/ 40-230°C Time Ranger:1 minutes to 72 hours Color: Silver Product dimensions (in.): 16.88*15.76*15.55 Package dimensions (in.): 21.1*17.6*19.3 Product gross weight (lb): 23.4  Package gross weight (lb): 25.49
Free shipping

Free 1-year limited warranty
Free shipping & 30-days return policy

Free returns on major appliances

Hassel-free warranty

30 day money back guarantee
What the People Love the Most
Heat up quickly and big capacity
love the multiple layers so can heat up different food at the same time. Also the bottom tray design is a lot easier to clean. Very good size for a family, can't wait to try more recipes.
Versatile and sleek
The versatility is what got me with this kitchen tool which is great for tight counter space. The first thing I tried was to dehydrate bananas and they turned out delicious. Easy cleaning as well.
Big Enough for Family Meals
We love this air fryer! It is large enough to fit most items we want to cook. The outside stays cool and it heats up quick. There are plenty of accessories for different types of cooking. The fryer isn't too large and is able to fit in a nice spot we have allocated for it.
Overall, we love using this unit. Rather than having the pull-out drawer, it has a nice door so we can fit larger items in it.
Works as advertised, with a few minor cons
I'd been looking for something to replace a Cuisinart toaster oven that I'd been using for the last ten years, and I decided to try the Joyoung Steel Man Air Fryer Oven. First impressions of the Joyoung oven were quite favorable, good quality, sturdy build. While I believe this unit is not as "smart" as other brands of ovens, so far, it has performed all tasks really well.
Baking a blueberry loaf cake was easy. Air Frying a batch of chicken wings yielded very tasty results. The only issue I'm having is setting the correct toasting times for sliced breads, English muffins and Bagels. I guess that's where trial and error comes in. Once you learn the sequence of setting the correct combinations for the type of cooking you're attempting things work out quite well. The sound level of the oven when in use is acceptable in either low speed fan or higher Air Frying fan speed. The interior light is a nice touch and with it being on a timer, it goes off after a short on cycle.
So far, I have three complaints. First, the cooking completion tones are very low in volume, quite hard to hear just a few feet away. Another concern is the lack of rack stops on the slots inside the oven. If you pull a hot rack out too far it'll just drop off the guides onto the open oven door. You'll remember this shortcoming after it happens to you, once. My third con is the flashing standby light. When the oven is not in use, but plugged into an AC outlet, the Power button illuminated ring flashes a somewhat bright white light to show you it's waiting for your next use. I would have preferred the light shutting off after a minute or two.
I've only been using the oven for a few weeks, but I'm feeling comfortable in day to day use. It works as advertised and offers a large capacity oven with the versatility of an Air Fryer.
Great oven, the best one I have used ever.
I like it because it is easy to clean and it looks really beautiful.
RECEIVE PRODUCT NEWS AND UPDATES